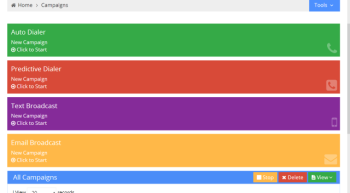 Communicate value and efficiency
So much of your success depends on your ability to achieve and reflect organizational efficiency and value. When your organization is communicating well:
Volunteers are productive, engaged and enthusiastic
Awareness of your organization's value is built and maintained
Event management becomes a clear demonstration of your organization's professionalism and quality
Fund-raising gains traction as credibility, trust and donor generosity grows
Voicent Live provides nonprofit organizations highly effective, affordable tools for engaging volunteers and donors. Most importantly, Voicent enables nonprofits to maintain a high degree of professionalism while keeping costs low.
Powerful automation made easy
Voicent Live's completely automated broadcast messaging tools allow you to quickly and easily send out personalized messages to staff, volunteers, donors and constituents, by voice, SMS text, email, or whatever format they prefer.
Multilingual Text-to-Speech capabilities enable you to connect with recpients in their preferred language.
Everything from list management to message design to campaign execution is managed with point-and-click ease. There's no need for highly skilled IT or software development expertise.