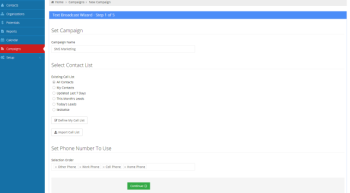 Grow your business
With our communication tools, your company can present itself with a level of quality, sophistication and professionalism that was once out of reach for the small company. Voicent enables small businesses to offer big company services and do big company marketing by using cloud technology that replaces expensive, hard-wired, old-fashioned equipment.
Get your message out quickly and efficiently with just a single click
Offer your customers the ability to get special alerts or confirmation messages about sales, deliveries or special events. Let them choose from a selection of formats: email, phone or text message. Use one of Voicent Live's tools to send quick messages to customers asking if they're happy with your company. Share important, valuable information with customers via an email newsletter, using Voicent Live's bulk email tool. There is no better way to deepen customer relationships.
Improve your image
Offer your clients a confidence-inspiring and credibility-raising experience anytime they call you. From on-hold music to voice-prompts enabling callers to help themselves to basic information like directions, hours, and more. Your phone system can demonstrate your company's commitment to quality and professionalism.
Get a 24/7 virtual staff to answer calls, deliver information and take messages.
Give a phone extension and voice-mail box to every employee, making them feel like a valuable part of your team. Give multiple phone extensions and voice-mail boxes tor those employees wearing more than one hat, helping them better organize and manage their work