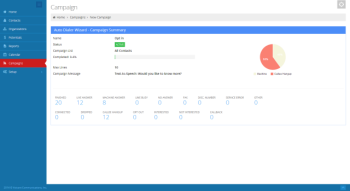 Close more sales with automated dialing
With Voicent Live's predictive dialer technology your agents will get on the phone with more leads in less time, allowing your call center to operate at maximum efficiency. No matter which automated dialer capabilities your call center needs--power, preview, or progressive --Voicent Live has the tools you need to grow your business.
Cutting-edge web integration to seize the sales lead
The speed of business in today's marketplace is ever increasing. If you're not in the forefront of a sales opportunity, chances are your competitors are there. Voicent Live's easy tool integration provides your company with astonishing competitive advantages.
From automated collection and display of CRM information, to the ability to automatically respond to an online inquiry with an immediate phone call, email or text message offering real answers and solutions, Voicent Live's extraordinarily easy technology gives you the competitive advantages you need to grow your business.
Voicent Live's automated agent scripting capabilities ensure that your agents will always be on-script, delivering the consistently clear and compelling messages that engage customers and close deals.
Add agents, lines and opportunities, on-demand
Whether cultivating new customers or selling to existing customers, your call center's inside sales teams need to be able to focus on the people and opportunities that generate revenue. Every minute your agents spend laboriously managing leads or struggling with technology represents lost business.
With Voicent Live, you will have the agility and flexibility to quickly deliver whatever resources your teams need to stay focused on sales performance.