To add contacts remotely to your Voicent Live account you will need to follow the instructions below.
1) Login to Voicent Live and continue to your Dashboard as circled below in red.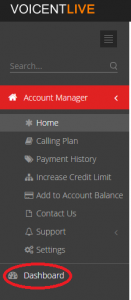 2) On the left side panel of your Dashboard, Select Setup -> Website -> Form

3) Add a new form, specify a forward URL if you are going to add this form to your website. No forward URL is needed if you are using this to add CRM records remotely.
4) Select the fields which will be used, and save this form.
5) Now that the form is created, you can remotely create CRM records.
To start, submit an HTTP POST to: http://www.voicentlive.com/crmwebform.php
With the name & value pairs of:
vgformid (Found when viewing the source of the form created earlier)
vgformtoken (Found when viewing the source of the form created earlier)
vgformid2 (Found when viewing the source of the form created earlier)
action=add
MOD=CUS
CUSTOMER_CATID (Category ID found when viewing source of form created earlier)
CUSTOMER_CATNAME (Instead of using the CATID above, you can specify the String based CATNAME, like 'Cold Lead')
LEAD_SOURCE
HONOR_TITLE
FIRST_NAME
MIDDLE_NAME
LAST_NAME
BUSINESS
JOB_TITLE
WEB_SITE
FAX
HOME_PHONE
WORK_PHONE
WORK_PHONE_EXT
CELL_PHONE
OTHER_PHONE
EMAIL
EMAIL2
DATE_OF_BIRTH
CUSTOMER_DESC
CF_1
CF_2
CF_3
CF_4
CF_5
CF_6
CF_7
CF_8
CF_9
CF_10
CF_11
CF_12
CF_13
CF_14
CF_15
CF_16
CF_17
CF_18
CF_19
CF_20